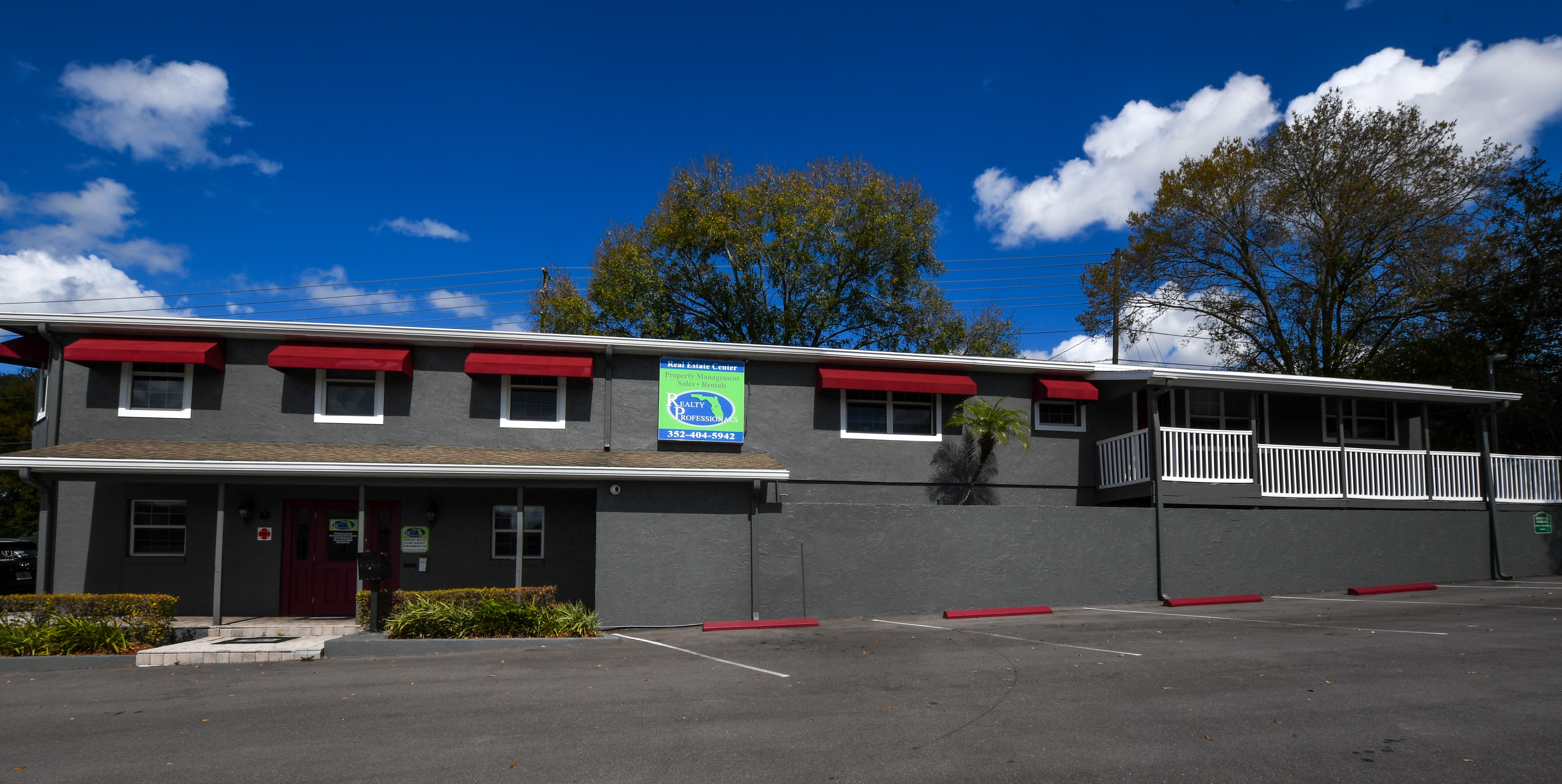 Realty Professionals of Florida, LLC has been serving Clermont and surrounding areas since 2004.
We are the number one independent brokerage in the area with a team of experts ready
to assist you with all of your Real Estate needs.

Our team knows how important your family and future are, therefore we strive to provide excellent, honest, reliable and professional services as you search for your new rental home, your dream home or someone to manage your investment home.
INTERESTED IN SELLING YOUR HOME?

Our Agents are equipped with the best that technology has to offer. Aerial Photo Services with our very own Drone, Marketing of your home in over 900 websites! Digital Presentations and your property gets its very own website! We can provide you with a FREE market value estimate of your home, to help you make an informed decision.

If you are a buyer, Check out ALL the available listings via our Search Tool. You can search all the homes listed on the market, just like a Realtor. You can also utilize our Mobile App! Our technology services make shopping for a home easy and fun!!

Not Ready to Buy? We have rental properties available, too!

We offer properties for sale or rent as well as cost effective property management services for residential and commercial properties in Central Florida serving Lake, Sumter, Polk, Orange and Osceola Counties.
No matter your Real Estate needs, We got you covered!
Harvey & his team are a great group to work with. I have worked with them for years and they are top notch group of people!
by Frank L
• My Wife & I recently purchased a home and we would like someone to know what a tremendous experience we had with Frank Ranfone. We had been looking for about a year and were with another realtor. Our previous realtor was with a Berkshire Hathaway, a respected firm but our realtor just wasn't able to do us much good. We always got the impression he was interested in selling more expensive homes than what we were looking for. We never got the warm and fuzzy feeling from this guy. Then... completely by the Grace of God, Frank Ranfone was put in our path. We met with Frank at his office. We got to know each other while Frank was getting a feel for what we wanted. After Frank figured out what we were looking for, he took off like a dynamo. Frank found several possibilities for us, vetting each one before he told us about them, then arranged for us to see the ones we liked of what he found us. In what seemed like a very short time, Frank found us our dream home. The home he found us met all of our criteria and them some. Frank helped us through out the whole process just like a guardian angel. Frank conducted himself with a degree of personal professionalism that would make any group proud to have him represent them. I would, without hesitation or reservation, recommend Frank Ranfone to anyone trying to buy a home and needs someone who will give them the utmost attention, guidance and straight and honest advise. We love Frank and would gladly speak to anyone about his ability & sincerity.
by Emil J. & Cynthia D.
• Rave! Connie Gibson helped us find our home in December. (I had no affiliation prior to this professional experience) She was beyond awesome! No pressure to buy or look outside of our budget (and no guilting or shaming of our small-ish budget either) She was great to point out the good AND the drawbacks of each property (not just trying to sell us anything to make commission). I would highly recommend her without hesitation.
by J. Thompson
• A long overdue thank you to Julie Clay my realtor in Central Florida . I reached out to her back in February regarding the selling of my home in Winter Garden . We went over everything , she took pictures , wrote a description based on my designer upgrades to the property and within a week it was officially listed . Not a native to Florida or the Real Estate know how, I trusted her fully . The last time I sold a house was in New York and my attorney handled everything , it was sort of a cold feeling , leaving my property in the hands of my personal attorney and the description of my house at that time was less than stellar . With Julie, I felt she actually cared and I wasn't just an MLS number I was treated like a client that she really cared about and had my best interest from start to finish . We had a lot of showings, I received notifications on my cell phone through the mobile app, which was convenient , but drove me crazy . Julie assured me that she would approve said appointments and call me directly with all showings . As you can imagine , I was moving regardless if the house sold before or after the move and that coined with the showings had me a bit on edge . Julie called most everyday to not only update on feedback and progression , but to check on my well being . I had moved and left my property in her hands, she continued to call almost everyday with updates this time with an offer . Her expert advice and her personal opinion meant a great deal to me . I trusted her 100 percent and decided to not take the offer. Then the same week we had another offer , it sounded great to me and Julie also agreed . She also advised me on what needed to be done , she contacted many people on my behalf to meet the demands of the buyers , she met with these professionals on my behalf and I really never questioned a thing. Customer service is so very important to me . Julie went above and beyond for me . Personally , she calmed me down in all the moving process, the stress and made me laugh every phone call. She educated me on all the phases of selling my house and most importantly she treated me like a human being and not just a number . If you are entertaining the idea of selling your home or buying for that matter , call Julie she is really great I promise you .
by Happy Client
You made buying a home so easy for my wife and I. We were grateful for how much patience you used in answering all of our questions and taking us to look at so many houses. You never pushed us into looking at something we were not interested in. We strongly recommend you to anyone looking at buying a new home.
by Robert & Joetta
Mr. Rosenberg is the consummate professional. He answered every one of my concerns and questions in confidence and the deal went EXACTLY AS HE PREDICTED. I can assure anyone interested in obtaining a TRUE PROFESSIONAL in the Realty Industry that Harvey Rosenberg is the man for the job. Experience. Integrity. Personal Service
by J Baker
He did everything he said he was going to do for us. Honest and professional . He also helped on getting contractors in line for estimates and kept his eye on the property why we went back home to get ready for the move
by PGulcynski
Very professional, courteous and on time. He followed up with me to make sure everything was done to my satisfaction. If you want professional service - choose Realty Professionals!!
by Maria M
Best Realtor I ever worked with. He helped my nephew find and purchase his new home, And we clicked so well I went with every time he had a new place for my nephew to look at. He also assisted myself in the sale of my property. Melanie was a god send with my sale. she knew everything to do and what forms I needed. You can not ask for a better realtor. Just to show you how much he cares. My nephew purchased a home and my home was sold from the Conway area, Harvey's office is AWESOME.AWESOME.
by Jolee
I contracted with Harvey and his team to assist with a sale of my primary house as a short sale due to a job change/transfer out of state. Harvey and his team did a great job walking me through a process that I (admittedly) didn't know much about. We got the deal done, with great communication (despite me being out of state) along the way - and a very fair deal negotiated on my behalf. I recommend Harvey and his team highly.
by HG
Harvey helped us find a great deal when we were looking for homes. At this time the market was more of a seller's market. He kept us informed of all newly listed homes that met our criteria and then he made every possible effort to get us into the ones that interested us. When we found the home we wanted, he worked hard to get us the best deal possible with multiple offers working against us. We feel he is a great negotiator and truly worked to benefit us. We would recommend his to anyone who is looking for real estate help as well as use his services again.
by UN
Yoli was amazing! She was on top of everything and any questions or concerns I had she responded very quickly and professionally. I highly recommend her.
by Happy Seller
Realty Professionals of Florida did amazing job selling my house especially our Realtor, Douglas Silber. He was very courteous and professional. He was able to list and sell our house in just over two months!
by Vin D.
The purchase transaction was seamless Thanks to Tess Uddenback Slack
by Cynthia M
I couldn't be happier with Harvey Rosenberg and Frank Ranfone of Realty Professionals of Florida. They really did treat me right and helped me out of a tight spot. I had a house that I needed to sell, but it needed tons of work before it could be listed and I just didn't have the capital or the means to accomplish that task. Harvey stepped in and partnered with me in selling the house. He hired the pros to get the reno done right and the house looked absolutely beautiful. The new buyer got a great house and I closed on my house ahead of schedule thanks to Harvey's efficiency and the team of pros he hired to renovate. I would not hesitate to use Harvey, Frank and Realty Pros again in the future and I highly recommend their services to anyone in my position or anyone needing to buy or sell a property.
by Karen D
Harvey and his agents were there every step of the way for the sale of our house and helping with the purchase of a new home. If I ever had to recommend or use another agent again I would definitely recommend Realty Professionals of Florida do anyone that wants to buy or sell a house. I gave a 5-star rating because they definitely surpassed all of our expectations and we thank them.
by Kat M